Whether you drive with Volkswagen or not, tire rotation is an essential part of your regular maintenance schedule. Although it's easy enough to have your tires rotated at a local service center, many of our neighbors near St. Louis would like to know how to do a tire rotation on their own time! If you'd count yourself among them, read on to find out everything you need to know about DIY tire rotation.
Why is Tire Rotation Necessary?
Even if you installed all of your tires at the same time, your vehicle's drivetrain will cause them to wear down at different rates. In general, those that receive power will wear down more quickly, while the others will wear down more slowly.
If you don't rotate your tires, you'll have to replace your tires at different times, one by one as they wear out! Rotating your tires to ensure even wear is a great way to save time and money you'd otherwise spend at your local tire store.
How Often Should I Rotate My Tires?
Your vehicle's owner's manual will almost certainly contain a recommended tire rotation interval. However, if you've lost track of your owner's manual or just need to know right away, you can plan on rotating your tires once every 3,000 to 7,500 miles. This is a wide interval, so keep in mind that AWD vehicles will tend to fall on the lower end of the spectrum, while FWD and RWD vehicles can go longer in between rotations.
How to Rotate Tires at Home: Know Your Rotation Pattern
If you're going to perform a DIY tire rotation, you'll need to know the proper rotation pattern before you get started. Luckily, it's not hard to figure out what you need to do.
All front wheel drive vehicles will have the front tires move to the back, and the rear tires move to the front. When you move the rear tires into their new positions, you should also have them switch sides, from right to left.
Do exactly the opposite with rear wheel drive vehicles. Here, the rear tires will go to the front, and the front tires will go to the rear. So far, so similar. However, this time, you'll switch the sides of the front tires when you're moving them to the rear positions.
No two AWD systems are exactly alike, but since systems like VW 4MOTION® AWD direct power to all four wheels, you may have to exercise your best judgement in determining how to rotate.
If you drive an AWD Volkswagen, check your tire treads for uneven wear, and perform a left-right cross if necessary. In most cases, you'll be fine if you simply swap the front tires for the rear.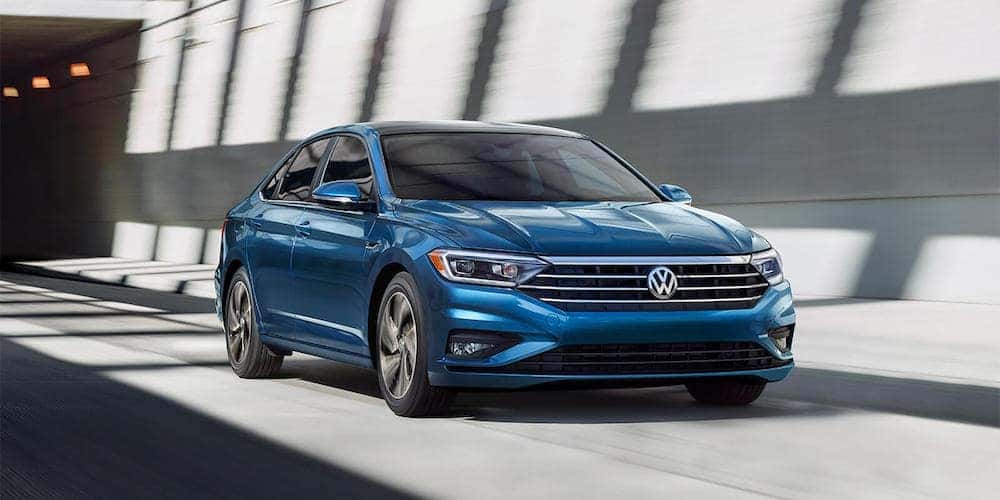 How to Rotate Tires at Home: Step-by-Step Instructions
Before you get started, gather up your car jack, jack stands, and your lug nut wrench. With these tools in hand, you should be ready to go!
With the car off and on level ground, engage your parking brake for extra security.
Go to each wheel and loosen the lug nuts, but don't remove the tires yet.
Lift up the first wheel with the car jack, and place the jack stand beneath it. Remove the tire, and go on to the next one.
Once all four tires are removed, check to ensure that they all have the correct air pressure, then move them to their new positions.
Attach each tire, tightening the bolts as much as you can by hand.
Then, lower each jack stand, and with the car back on solid ground, use the lug nut wrench to finish the tightening process. Work in a diagonal pattern to prevent uneven tightening and brake rotor warp.
Need a little extra guidance? Check out our answer to the question, "How do you change a tire?"
We're Here If You Need Us
If you have any questions while performing your at-home tire rotation, don't hesitate to give our service team a call at 314-487-4004! Or, contact the experts online. Of course, for many drivers, bringing the vehicle into a service center is much easier than servicing it yourself, at home. We've made it easy to schedule service online, and when you take advantage of our rotating auto service coupons, it's just as easy to save. We're just a short drive from Webster or Kirkwood, so don't wait to get the help you need. We can also answer your questions about wheel balancing and alignment.