What Is Volkswagen 4MOTION® All-Wheel Drive?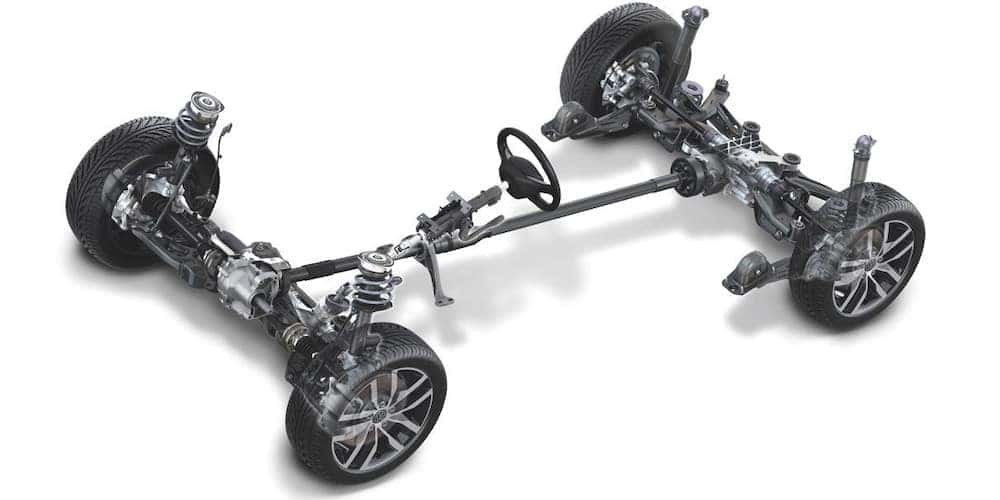 While there are plenty of vehicles that offer all-wheel drive (AWD), Volkswagen takes all-wheel-drive to the next level with the advanced VW 4MOTION® All-Wheel Drive system. A new take on typical all-wheel drive, this Volkswagen AWD system designed by the Volkswagen Group delivers cutting-edge technology, enhancing both performance and handling. Learn more about this Volkswagen AWD system today at Suntrup Volkswagen.
Standard AWD vs. Volkswagen AWD Performance
AWD provides St Louis drivers with more efficiency than four-wheel drive (FWD) while also offering many of the same traction and control benefits. In addition, AWD systems are always engaged while four-wheel drive (4WD) systems need to be switched on and off. The time delay that comes from manually activating the system or waiting for it to be triggered by your vehicle's sensors could be detrimental if you hit a patch of road that requires extra traction. While 4WD is better than nothing, all-wheel drive is always ready to perform at a moment's notice.
4WD vs. 4MOTION® Volkswagen AWD
What's the difference between AWD in a Volkswagen vs. standard 4WD? In general, AWD and 4WD function similarly but aren't the same kinds of systems. Here are their key differences:
Turn On/Turn Off

: With AWD, you don't have to manually turn it on or off as it automatically adjusts to the amount of power directed to the wheels. 4WD, on the other hand, has to be manually turned on and off.

Vehicle Types

: AWD is usually found on cars and crossover SUVs. 4WD is usually found more on trucks and other kinds of off-road vehicles. 

Cost & Weight: AWD systems are lightweight and cost less compared to 4WD systems. This is why AWD systems are preferred for people who drive vehicles like sedans and crossovers.
How Does Volkswagen AWD 4MOTION® Work?
Volkswagen has taken the basic framework of AWD and improved upon it to boost performance and create the 4MOTION® AWD system. While all tires remain engaged, 4MOTION® AWD will most often distribute about 90% of the power to the front axle and 10% to the rear axle. This unique distribution provides drivers the responsive handling found in FWD vehicles while still providing a quick shift for additional traction when needed.
In the event 4MOTION® AWD Volkswagen sensors detect the loss of traction, the system immediately redistributes weight to whichever tire needs it. This means the perfect balance of torque is applied to keep you and your Volkswagen in control while on the St. Louis roadways. Remember, since power is directed to all four wheels at different rates, you'll need to know your tire rotation pattern if you plan on rotating your tires at home.
Which Models Have 4MOTION® AWD?
You can find 4MOTION® AWD on several different Volkswagen models, including:
Volkswagen Arteon 

Volkswagen Tiguan 

Volkswagen Atlas Cross Sport

Volkswagen Atlas

Volkswagen Golf GTI

And more!
Experience the 4MOTION® AWD Volkswagen System in St. Louis
Whether you are in the market for a new or used Volkswagen, you can find an array of options available at our dealership near Webster. If you have additional questions about the 4MOTION® AWD Volkswagen system or other Volkswagen performance features, the experienced sales associates at Suntrup Volkswagen are standing by to help. Contact us online, and we will get back to you right away.
More From Suntrup Volkswagen
Do you want that signature Volkswagen flair with an eco-friendly twist? Then it's time to take a look at the 2023 Volkswagen ID.4 specs. This all-electric vehicle is taking St Louis and St Peters by storm with its ultra-efficient performance, high-tech features, and exceptional safety scores. If you want to experience Webster on the cutting edge of…

The 2023 Volkswagen ID.4 range has been the talk of the auto industry, and car enthusiasts around the world have been anxiously awaiting the arrival of this all-electric SUV. So, what is the range of the Volkswagen ID.4? The 2023 Volkswagen ID.4 range reaches up to 275 miles, and that's just the start. This…

If you're looking to give your St Louis commute an upgrade with a stylish new SUV, you've come to the right place! At Suntrup Volkswagen, we offer a wide variety of new and pre-owned vehicles in all shapes and sizes, from compact sedans to three-row family crossovers. Whatever your budget or driving needs may be, we're confident…