How to Check Your Transmission Fluid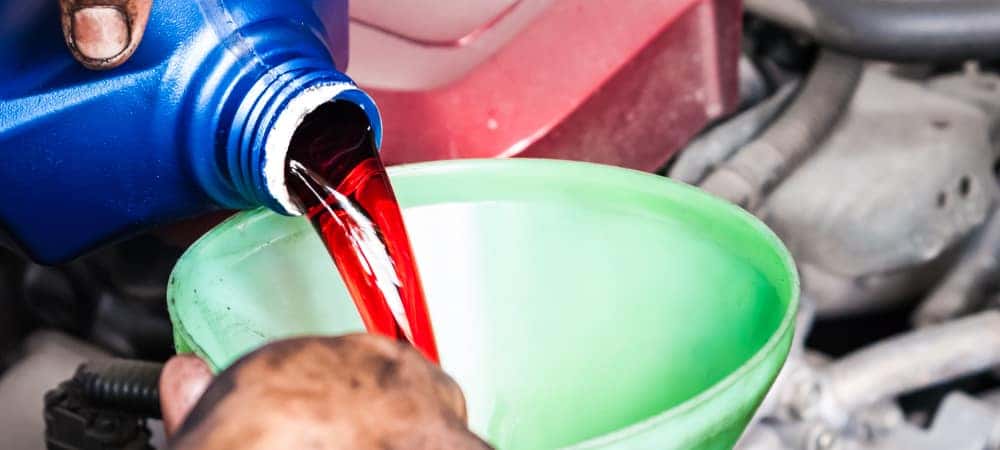 Regularly checking your transmission fluid can keep your car running smoothly and help prevent maintenance issues before they become serious. Follow these simple steps to check your transmission fluid:
Turn your car on as the engine should be warmed up to check the level.
Locate the transmission fluid dipstick. It can usually be found to the right of the oil dipstick on front-wheel-drive cars. If you are having problems finding it, check your owner's manual.
Remove the dipstick and touch the fluid, making sure to rub it between your fingers. The fluid should be nearly clear, with a pink hue. If it looks dirty or gives off a burnt smell, take it to a Volkswagen service center for a replacement.
Wipe the dipstick with a rag and then insert it back into the vehicle. Pull it out again and check the level. If it's under the "Full" marking, you'll need to add more.
Use a funnel to top off your fluid, making sure not to overfill it.
If you run into any issues, feel free to contact Suntrup Volkswagen, providing service to customers from Oakville and beyond.
How Often Do You Check Your Transmission Fluid?
Checking crucial fluids monthly, like your transmission fluid, power steering fluid, and engine oil keep your car running at its best. Consult your owner's manual for a more specific maintenance schedule for your specific vehicle.
Transmission Fluid Basics
Your transmission is one of the most important and complex parts of your vehicle. Before you check and fill your transmission fluid yourself, check out these tips:
Not all transmission fluid is created equal. Drivers should take note that there can be different types for recent models, manual transmissions, and automatic transmissions. Your owner's manual will recommend a particular type of transmission fluid.
If you need to check the fluid on a manual transmission you will likely require a jack to access a plug located beneath the car.
If your vehicle hesitates before shifting gears, it could be a sign of low transmission fluid. However, you will want to get your vehcile checked as it can be a sign of a more serious issue.
Transmission fluid should be replaced between every 50,000 to 100,000 miles. The actual amount depends on your driving habits, type of transmission, and other factors. Consult your owner's manual for more specific information.
Find Help With Your Service Needs at Suntrup Volkswagen
If you need help checking your transmission fluid, or you need help changing or rotating your tires, schedule an appointment at Suntrup Volkswagen. The certified technicians at our St. Louis service center will have you back on the road in a flash.
Service Specials at Suntrup Volkswagen
More From Suntrup Volkswagen
The 2019 Volkswagen Jetta has been completely redesigned, and it's been gaining fans from Oakville to Fenton! If you are thinking about purchasing or leasing the stunning new Jetta, you need to find the trim level that best meets your driving needs and budget. With this comprehensive guide to the 2019 Volkswagen Jetta configurations, it's…

Oakville drivers looking to customize their Volkswagen Tiguan have several options, making it easy to perfectly tailor the Tiguan to meet their driving needs. You will find a wide range of Volkswagen accessories to choose from in St. Louis. Whether you are looking for some extra protection, added style, or increased carrying capacity, you have numerous…

The 2019 Volkswagen Jetta interior is offering Mehlville and Fenton drivers more than ever! Whether you're looking for a more comfortable commute or the latest comfort and convenience features, you'll love what you find when you get behind the wheel. Start your adventure by taking a closer look at some of the standout technology features:…