Have you ever wondered, "What is car detailing?" If so, then you're already on the route that leads to a nicer, more well-maintained vehicle, and higher resale values, too! Exterior and interior car detailing tasks go beyond the superficial clean of a car wash to return your car to its former glory. Whether you learn how to detail a car by yourself, or you let the experts at our St. Louis service center handle the job for you, you can have your car looking brand new in no time.
How to Detail a Car: What You'll Need
The first step in the car detailing process should be obvious. You'll need to gather up your supplies. Most of the following can be found at your local parts center, near Webster or Kirkwood:
Vacuum cleaner
Washing mitts
Microfiber cloths
A variety of small brushes (such as a paintbrush)
Canned air
Upholstery cleaner
Carpet stain cleaner
Car-safe cleaner
Window cleaner
Surface protector for vinyl and leather surfaces
Now that you've seen everything that you'll need, the question "What is car detailing?" will have practically answered itself! Now, we'll take you through the steps that any good car detailing service will cover.
Exterior Car Detailing Steps
Rigorous Exterior Wash: Any thorough detailing session is going to begin with a rigorous car wash. Avoid household products and have plenty of microfiber cloths on hand. Remember, a cloth with dirt on it could scratch your vehicle's surface! You'll also want to dry with a cloth to avoid marks.
Clean the Wheels: Although there are solutions designed to help you clear out dirt and gunk from your wheels and wheel wells, you might be able to get by using the carsafe solution you've already been using. Use a small brush to get into the hard to reach areas.
Wax the Exterior: Providing a fresh coat of wax is the last step in the exterior car detailing process. This will ensure that the results last longer than they would with a normal car wash, and it will also help to protect your car from the elements.
Interior Car Detailing Steps
Interior car detailing is a more involved process. You'll have to go over numerous areas that wouldn't ever be reached during a normal car wash, and some may not have been touched in quite some time. Still, when you take the following steps, you're sure to notice the results:
Carpeting: Vacuum up all your carpeting to remove heavier dirt and debris. If you notice any stains, use a specialized stain remover and a brush to clear them off. Rubber mats? A good rinse outside should be enough to have them looking new.
Door Interior: Soap and water can be used to clean off the non-upholstered parts of your doors and interior. However, if your car interior is composed of nicer materials (like leather or wood), you may want to consider a specialized product.

Remember, if you're going to detail a car the right way, you'll need to open the doors and clean out the door jambs, too!

Windows: Use an ammonia-free window-cleaning solution designed to dry completely without leaving streaks. Contact our parts center if you're having trouble finding the right product!
Upholstery: If you haven't already vacuumed your seats, do so now. If you have cloth seating, use your stain remover and brush to have them looking like new. If you have leather seating, you'll want to use a specialized leather cleaner, and be careful to avoid scratches.

Don't forget to let the seats dry completely before you open the doors! Otherwise, you may end up with mildew.

Steering Wheel Column: Using the same solution you employed for your door interior, go over your steering wheel column to remove dust and stains. Apply a surface protectant for extra protection.
Dashboard and Center Console: Here comes the tricky part. We recommend using a toothbrush or some other small tool to get in all of your vehicle's cracks and tight crevices with a cleaning solution. Don't forget the inside of the vents!
Learn more about car detailing and the Volkswagen maintenance schedule at Suntrup Volkswagen.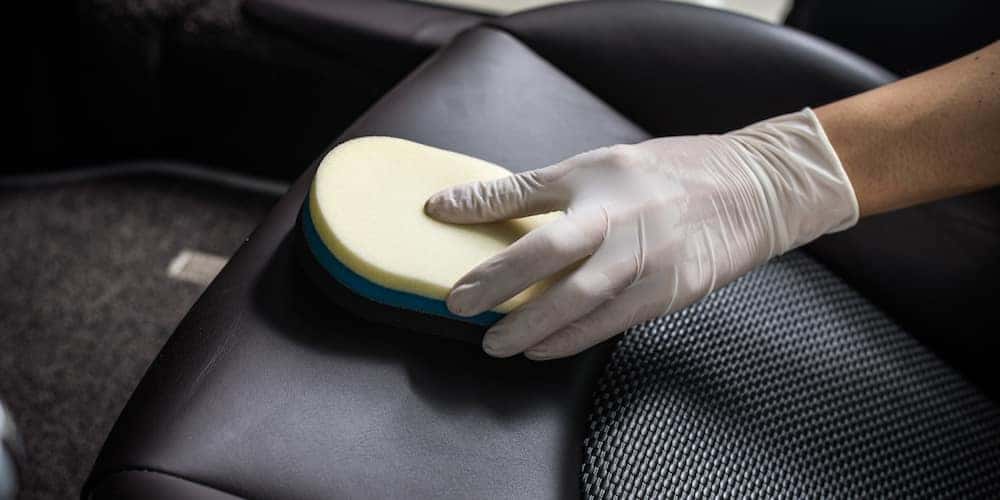 Get the Car Detailing Help You Need at Suntrup Volkswagen!
If the answer to the question, "What is car detailing?" involved a little bit more than you expected, then you should schedule car detailing service at Suntrup Volkswagen today! Our experts know everything there is to know about restoring vehicles, and our car detailing prices put most specialized body shops near St Louis to shame. Contact us today to learn more about your options.
---
Explore Our Models
You've probably noticed the new Volkswagen Atlas rolling around St Louis and that it's one attractive vehicle. But, just wait until you see the beautiful Volkswagen Atlas interior. Not only does this automobile look great on the inside, but there's plenty of room in this 3rd-row SUV, including the generous Volkswagen Atlas cargo space. We go…

You might not think that knowing how long or tall your Volkswagen Atlas is would be important information on the St Louis roads. However, knowing how much ground clearance your vehicle has or how it will be able to maneuver tight corners and spaces can come in handy when you're on the road. Take a…

The sleek look of thenew Volkswagen Taos is striking enough to brighten up any St Louis street. But, just as impressive is the attractive Volkswagen Taos interior. Not only does this car look great on the inside, but there's plenty of room inside, including the generous passenger and cargo space. We'll go into the details below,…